Si tratta della rara versione da dragoni, modello di transizione tra il 1891 ed il 91/30.
Da quest'arma vennero derivati, a partire dal 1930, i fucili nagant modello 91/30.
La versione dragoni mantiene le seguenti caratteristiche del mod.91 da cui deriva:
culatta ottagonale (1891) invece che tonda (91/30).
Alzo a gradini con quadrante e cursore tarato in arshin (1891) invece che a ritto tangente e cursore tarato in metri (91/30).
fascette di tipo intero più grosse e stondate (1891) invece che piatte e aperte inferiormente (91/30).
mirino a lama (1891) invece che a palo con tunnel (91/30).
Caratteristica comune al 91/30 è invece la lunghezza della canna, pari a 730 mm (invece degli 800 mm del 1891)
Nell'esemplare rappresentato la fascetta anteriore e' stata sostituita con una del 91/30.
It is the rare DRAGOON version, which represent a transition model between the earlier 1891 and the final 91/30.
From this weapon will result, starting in 1930, the Nagant 91/30 rifles.
The dragoon version keep the following specifications which are the same of earlier model 91:
octagonal frame (1891) instead of round (91/30).
Quadrant rear sight with slide (saw toothed ramp) graduated in arshini (1891) instead of tangent sight with slide graduated in meters (91/30).
Solid bands bigger and rounded outside profile (1891) instead of flat profile and opened in the bottom part (91/30).
Blade front sight (1891) instead of hooded post sightl (91/30).
The barrel lenght of the DRAGOON version is the same as the 91/30, that is to say 730 mm - 28,75' (instead of 800 mm - 31,5' of mod.1891)
In the rifle depitched the front band have been changed with a 91/30 one.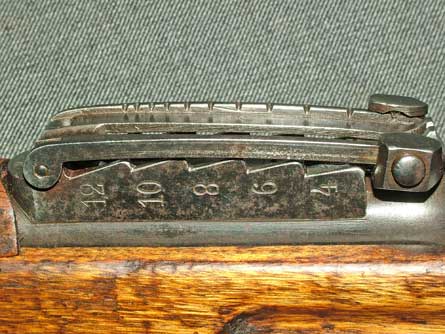 La tacca di mira è tarata in ARSHINI.
Sul lato sinistro riporta le distanze da 400 a 1200 arshini (285 -853 m). Nella parte interna da 1300 a 3200 arshini (925 - 2275 m)
The rear sight is graduated in ARSHINI and graduation is:
on the left side the s from 400 to 1200 arshini (310 - 930 yards). Inside of the leaf from 1300 to 3200 arshini (1010 - 2490 yards)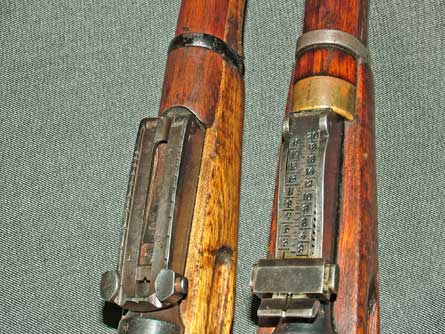 A SINISTRA - LEFT: MOD.1891 DRAGONI
A DESTRA - RIGHT: MOD. 91/30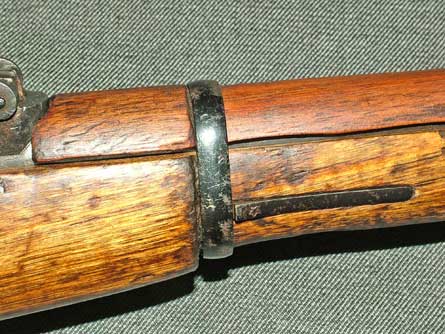 FASCETTA POSTERIORE - REAR BAND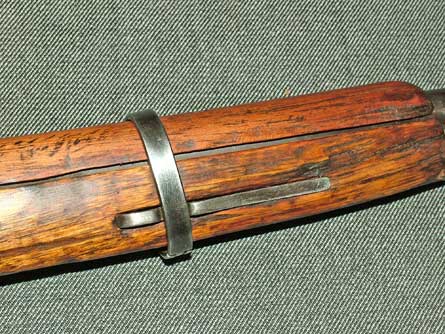 FASCETTA ANTERIORE - SOSTITUITA E NON ORIGINALE
(si tratta di quella poi utilizzata sul modello 91/30)
FRONT BAND - REPLACED AND NOT ORIGINAL
(it is the one later adopted on the model 91/30)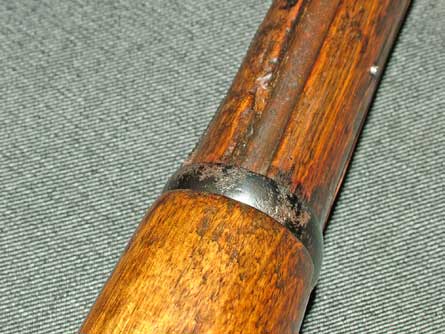 FASCETTA POSTERIORE - REAR BAND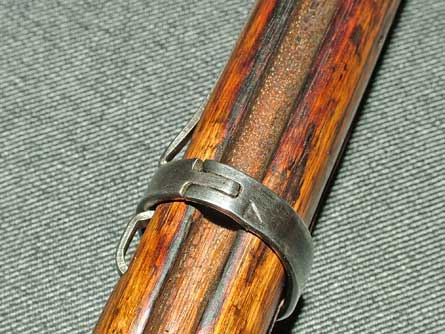 FASCETTA ANTERIORE - SOSTITUITA E NON ORIGINALE
(è quella del modello 91/30)
FRONT BAND - REPLACED AND NOT ORIGINAL
(it is the one adopted on the model 91/30)